More Concrete Color Options for More Inspired Concrete Countertops…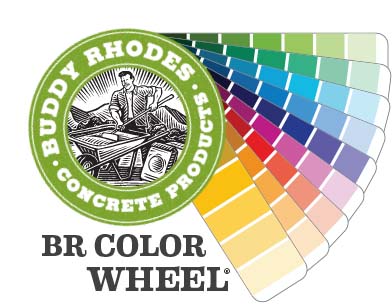 The Buddy Rhodes Color Wheel™ features three distinct color collections:
The Buddy Rhodes Specialty Collection™


Based on the popular Benjamin Moore paint library, the BR Specialty CollectionTM features more than 400 pigment options.

The Buddy Rhodes Signature Collection™


15 timeless colors, hand selected by Buddy Rhodes. These colors all feature the same convenient dosage; add 1 lb of BR Signature pigment to one bag of any BR Blended Bag Mix for perfect color every time.

The Buddy Rhodes Pure Collection™


Use straight or mix together to create your own custom blends, we offer 24 vibrant pure pigments to suit any taste and style.
Packaging Options - All pigments in the Buddy Rhodes Color Wheel™ are available in 5 lb., 20 lb., and 80 lb. units. Pigments in the BR Signature Collection™ and BR Pure Collection™ are also available in 1 lb. units.
Custom Colors - The Buddy Rhodes Color Lab can develop custom colors for you. Color matching fees and minimum purchase requirements apply. Contact us for details.
Color For Concrete Products
Color Selection Guide PDF